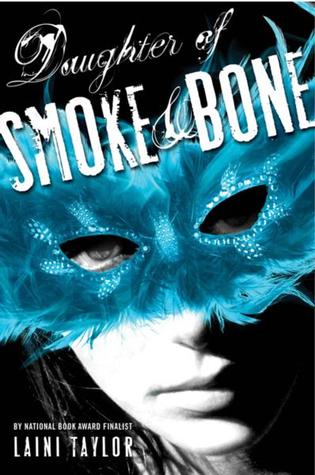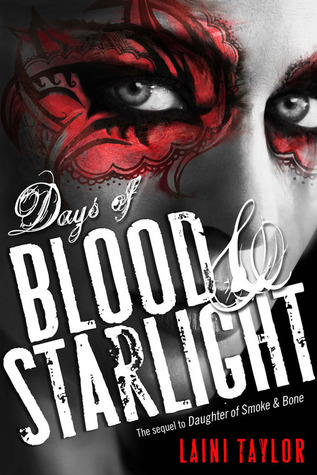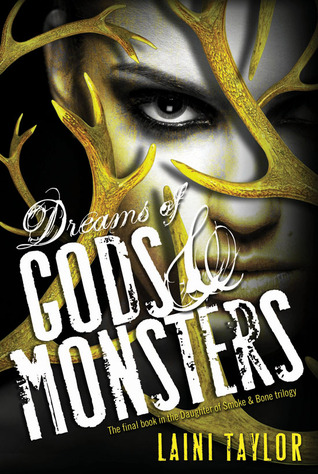 Book talk:
You may think that your family is weird, but Karou's isn't even human. She has a pretty normal life on the surface: she goes to art school, hangs out with friends, copes with a break-up. But those closest to her wonder why she has a habit of disappearing at a moment's notice. They never suspect the truth--that she goes through secret doors to a workshop filled with monsters that send her all over the world collecting teeth. These are no baby teeth either. They are ripped from animals of all sorts and collecting them can be dangerous work. Karou doesn't know how she came by this odd life, but she loves her monstrous family. Then an angel with wings of flames comes into her life and Karou finally begins to unravel the story of her dismal past as she prepares to face an even more dangerous future.
Rocks my socks:
The world-building in this series is phenomenal. Laini Taylor creates a unique and complex world that weaves together not only different countries but parallel universes. The creatures that live in this alternate universe are creative part animal part human hybrids. As Karou discovers more about her history, the complexities of the society are slowly revealed. That's what I liked best about this series. Nothing is simplified to black and white. The characters are layered and develop and change over the course of the series, the society is complicated and different perspectives on its history are explored, and the decisions the characters are faced with are genuinely difficult.

Rocks in my socks:
Perhaps because I read all three back to back I got frustrated with Taylor repeating herself and summarizing previous plot points. In a similar vein, the constant references to gazes full of electricity conveniently interrupted to draw the tension out seriously wore on my nerves by the time I was reading book three.
Every book its reader:
I'd give this to fans of urban fantasy like
The Mortal Instruments
series. Both the romance and the violence can get pretty intense at times so I'd save it for 8th grade and up.
Extras:
Laini Taylor has a website:
http://www.lainitaylor.com/
The series has a website with a cool map and other downloads:
http://www.daughterofsmokeandbone.co.uk/
There's a series of trailers to introduce the series and the main characters, I'll put the first here:
Source:
school library & ebooks from SF public
The Daughter of Smoke & Bone
by Laini Taylor:
buy it
or
check it out
today!