I enjoyed reading this graphic memoir for the perspective that it provided. I read volume one and two for my book club and while I'm usually not a fan of memoirs, I appreciated the glimpse this one gave me into a culture and events that I knew very little about. There were many poignant and humorous moments in this coming of age story full of acts of defiance and attempts to understand the world that anyone can relate to. There's a reason this book has received so much acclaim and it largely lives up to the hype.
Persepolis by Marjane Satrapi: buy it or check it out today!
The kingdoms of Spiff and Spud couldn't be more different. One values fashion above all else while the other prides itself in its more humble and mismatched tastes. But not everyone in Spiff rejoices in uncomfortable fashions. The princess would much rather read in her pajamas than go to some stuffy ball. When Prince Puggly of Spud and the Princess of Spiff meet up they hatch a plan to teach the Spiffians a lesson in blindly following trends. This book is pure, entertaining froth. The light and humorous rhymes pair up with the creative typography and the fanciful situations and characters (such as King Dandy von Fop) to create an amusing tale that would be fun to read aloud. The theme of individuality as expressed by fashion is well-worn, but the way the story is told with its jaunty rhymes and playful layout is perfectly charming.
Prince Puggly of Spud and the Kingdom of Spiff by Robert Paul Weston: buy it or check it out today!
This comic starts off with a full page spread of a sassy talking cat, so it was basically love at first sight. But after the initial excitement of attraction wore off, I found that we didn't have much in common. Most of the characters are never fully introduced and many situations are left unexplained. The narrative was disjointed and confusing moving from one scene to the next seemingly based more on what would be pretty to draw than what would add to character or story development. The artwork is absolutely gorgeous and just flipping through for the pictures alone is worth it. As a story I just didn't connect with it though. Another disappointing pretty face.
Domovoi by Peter Bergting: buy it or check it out today!
This book is difficult for me to review because I can't go too far into why I dislike it without revealing major spoilers. I absolutely adored the first book and perhaps it's because I grew so attached to the protagonist that I was so upset by the ending of this book. Let's just say that I am apparently not as quick to forgive as he is. I was so upset by the ending that it was all I could talk about for days to anyone who would listen. Even before the final twist I didn't like this book as much as the first. There was a lot of planning out war and tedious descriptions of battles and whether or not stores will last which is fascinating to some but not my cup of tea. I much preferred the heist theme of the first.
The Queen of Attolia by Megan Whalen Turner: buy it or check it out today!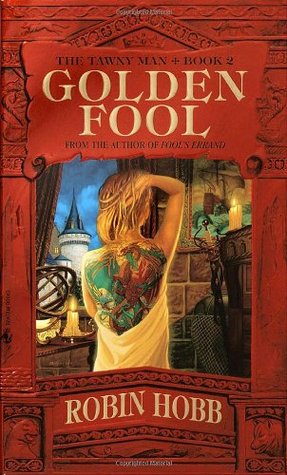 Now this is a fantasy series that did not disappoint! It's the third trilogy set in this world and I was glad to get an update on Fitz and the Fool. Each book is over 600 pages, but I wanted them to be even longer. I care deeply about these characters and there wasn't a single false step to jolt me out of the story. I read them all in less than a week--one when I was working. I normally sit with colleagues at lunch but that week I couldn't help finding a corner to myself where I could read on my break. I even read on the bus despite it making me nauseated--it was worth it! Even when I wasn't reading the books the moment my mind was free to wander it would travel to the world of the series and play out different scenarios and try to predict what would happen next. The world building, the complex characterization, the moral and philosophical questions, and the action scenes are all superb. I couldn't ask for better. If you haven't read the series start with
Assassin's Apprentice
and thank me later.
The Tawny Man series by Robin Hobb: buy it or check it out today!