This book consists of bursts of violent action interspersed with long existential discussions. It's an odd combination, but I like it! The titular brothers are hired hit men assigned to assassinate a man in the San Francisco gold country. Along the way the find and lose fortunes, have close calls with death and deal out some death of their own. This reminded me of
Rosencrantz and Guildenstern Are Dead
in that the brothers are pieces in a game playing their part without understanding the bigger picture of why and because of the nature of their conversations as everything is going on around them. If you're an adult looking for a Western and have a dark sense of humor then you'll enjoy this book.
The Sisters Brothers
by Patrick deWitt:
buy it
or
check it out
today!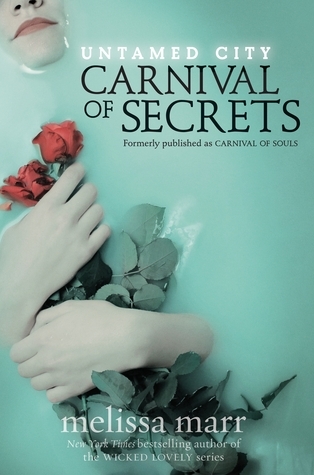 I'm a fan of Melissa Marr and the audiobook is narrated by James Marsters (aka Spike from
Buffy
) so I decided to listen to this while traveling. I was not disappointed. Melissa Marr crafts a complex world full of compelling characters at cross-purposes. Marsters does an excellent job narrating it all. It was all terribly engrossing and distracted me admirably from the bus and plane rides necessary to get home for the holidays. I would recommend it with the caveat that it ends on a major cliff hanger and the second book isn't slated to come out anytime soon.
Carnival of Secrets
by Melissa Marr:
buy it
or
check it out
today!
I wanted to like this collection of stories more than I did. I think the main problem was that I just wasn't its intended audience. I am a very character focused and a lot of these stories were focused more on plot twists and action than establishing layered characters. I suppose you can only do so much in a short story. I mostly picked it up because the stories were all set in Belfast and it succeeded in establishing a sense of place. In that sense I suppose it gave me what I was looking for. But while I liked the stories I didn't particularly love any of them and none of them really stayed with me.
Belfast Noir
edited by Adrian McKinty and Stuart Neville:
buy it
or
check it out
today!
I listened to this as an audiobook narrated by the author, which I suppose is appropriate considering I mostly know David Sedaris from podcasts he's appeared on. I started listening to it with my mom as we worked on a puzzle together and it cracked us up. It was a bit more awkward finishing it by myself on public transit because it kept surprising loud laughs out of me. The topics covered vary vastly but I would listen to David Sedaris talk about almost anything. I'm sure he could find a way to make a description of paint drying poignant and hilarious if he tried.
Let's Explore Diabetes with Owls
by David Sedaris:
buy it
or
check it out
today!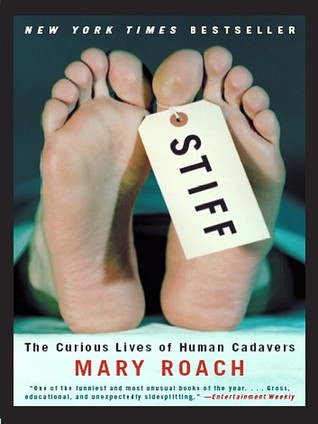 If you want an entertaining and insightful book about science, you can always count on Mary Roach to deliver. This particular book goes into many subjects from organ donation to embalming and it kept me fascinated as it presented me with a slew of facts while causing me to laugh along the way. Roach is particularly good at taking topics that leave many people squeamish and making them accessible with humor and that is precisely what she does in this wonderful book.
Stiff: The Curious Lives of Human Cadavers
by Mary Roach:
buy it
or
check it out
today!