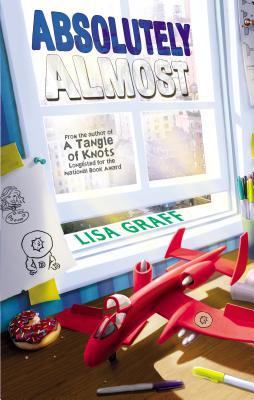 Book talk:
Albie has always been an 'almost'. No matter how hard he tries his work is only ever almost good enough. So he wasn't surprised when he found out that he was only almost good enough for his private school and he had to leave it for a public one. That means no more school with his best friend, one in a set of two triplets whose family is now starring in their own reality TV show. But Albie is starting to make new friends at his new school and they have a special math club there that is way better than sitting through regular math class. Perhaps this new school year will be better after all. Or perhaps it will just turn out to be another 'almost.'
Rave:
I love how heartfelt this novel is without ever becoming saccharine (unless you count all the doughnut references.) I also like that it's a slice of life without any false climax or easy resolution. Everything about the novel from the way the characters are drawn to the way events plays out seemed realistic to me except perhaps for how awesome his babysitter is but these flukes do happen. Let me talk for a minute about the babysitter and the way she gets Albie to take his mind of his problems by making a cardboard tv and remote for him that she places in front of the window. The math club teacher was another favorite of mine with his proclivity for puns ("Why didn't the quarter roll down the hill with the nickel?...Because it had more cents") Albie's friends, both the camera-shy reality tv star and the new friend he makes, are great characters too. The way the model airplane pictured on the cover becomes a physical manifestation of his relationship with his dad is at turns clever, heartbreaking, and hopeful. The book is full of great characters, memorable small moments, and valuable life lessons. If you're looking for a realistic school story this is an excellent choice.
Every book its reader:
Albie is in 5th grade but he reads as younger and I'd say it's fine for younger kids curious about older grades. It would make a great class read-aloud because it's fairly fast paced and easy to understand with plenty of humor but brings up a lot of great discussion points

Bait & Hooks:
puns, protagonist of color (Albie is half Korean, half Swiss), humor, school story, superstar teacher, learning differences, inspiring artist, bullying, baked goods
Extras:
Lisa Graff has
a great page for the book
with interviews, reading guides, and further reading suggestions.
Source:
ebook from public library
Absolutely Almost
by Lisa Graff:
buy it
or
check it out
today!