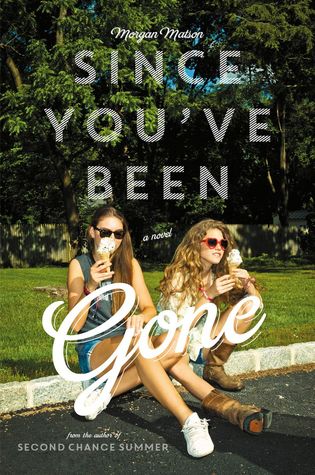 Book talk:
Sloane was the best friend a girl could ask for. No matter what they were doing, Sloane would turn it into an adventure and Emily could count on her to draw her out of her shell. Which is why Emily couldn't wait for their epic summer to begin. But then Sloane disappears without saying a word. The only clue she leaves behind is a list of things for Emily to do: from apple picking at night to kissing a stranger. Armed with her list, Emily sets out to check items off and find Sloane. Along the way she ends up having the most unexpected and wonderful summer of her life.
Rave:
I like that the main driving force of the plot was the friendship between Sloane and Emily. It was interesting having the story told from the perspective of the friend that isn't as popular and often feels like an after-thought. The story deals a lot with what it's like to be friends with someone with such a strong personality, especially for a shy person, and what it's like to be suddenly left alone to cope with life. Emily makes admirable strides but I like that her personality doesn't suddenly change overnight and that it takes her and other characters times to overcome their fears. I also really like the relationship between Emily and Frank and how it slowly grows out of a friendship. I was expecting a frothy book about high school relationships and was surprised by how much I liked this book. I was completely absorbed and flipping pages quickly.
Rant:
There were a couple of points that stretched my credulity a bit, but I was so taken with the characters I didn't mind.
Every book its reader:
I'd give this to anyone looking for a story about summer and friendship 7th grade and up.
Topics & Trends:
friendship, romance, summer

Bonus Quotes:
"I somehow knew that the particulars didn't matter. She was my heart, she was half of me, and nothing, certainly not a few measly hundred miles, was ever going to change that."
"I don't think you have to do something so big to be brave. And it's the little things that are harder anyway."
"Do you not like The Beatles?" Frank asked, sounding shocked. "Do you also not like sunshine and laughter and puppies? I don't think the Beatles get enough recognition. I mean, when you look at their body of work and how they changed music forever. I think there should be federal holidays and parades"
Source:
independent book store author event (Book Passage)
Since You've Been Gone
by Morgan Matson:
buy it
or
check it out
today!