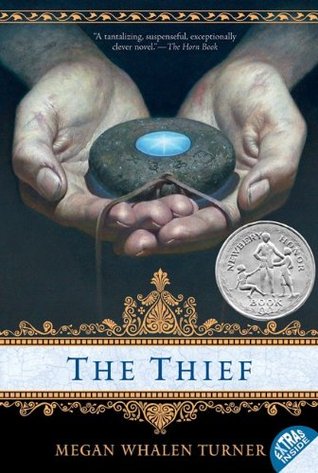 Book talk:
Gen is chained up in a dungeon, with shackles chaffing against his wrists as he slowly starves. But he isn't concerned. Gen is an experienced thief, which is what got him into prison and what will get him out. There isn't a prison that he can't steal himself out of and he knows he'll be free of this one soon...somehow. He isn't surprised when the King's Magus brings him out for a consultation. He has a job that only a thief can do. It will be dangerous and difficult and he may not make it out alive, but the Magus assures him that he will definitely die if he doesn't go along with it. So Gen agrees to go with the Magus and steal an ancient treasure from the Gods.
Rocks my socks:
I am a sucker for any story involving sly thieves with hearts of gold--the sassier the better! Gen does not disappoint on this count. He takes pleasure in annoying the rest of the party throughout the novel, but when the going gets tough is quick to display his skill and cunning. The world-building and invented mythology is interesting and their adventures on the road keep the pace moving admirably. The characters are believably portrayed with flaws and layers and grow over the course of the novel.
Rocks in my socks:
There's a lot of energy put into creating a twist at the end that was ultimately fairly predictable.
Every book its reader:
I'd give this to fans of fantasy and stories about thieves. 5th grade and up.
Extras:
Megan Whalen Turner has a website:
http://meganwhalenturner.org/
There's a jaunty trailer for the book:
Source:
school library
The Thief
by Megan Whalen Turner:
buy it
or
check it out
today!