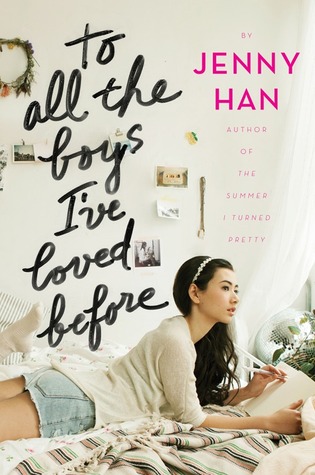 Book talk:
What would you do if everyone you've ever had a crush on got a letter from you pouring out everything you felt for them at the time? That is exactly what happens to Lara Jean. Every time she had a crush on a boy and she wanted to get over it she would sit down and write a letter. She'd pour her heart into it because no one else would ever see it. Or so she thought. Then one day her special hat box that held her letters is taken to the Goodwill by her father on an overzealous housecleaning spree. Someone puts them in the mailbox, and suddenly a guy she had a crush on years ago comes up to her in PE asking her about a strange letter he just received. It gets worse. One of the guys she had a crush on is now her older sister's boyfriend.
Rocks my socks:
The first time I heard the plot of the book described I had a visceral reaction to it. I'm sure there are more mortifying situations than having to come face to face with every boy you've had a crush on, but I am hard-pressed to think of one. The romance this creates is certainly unconventional and I enjoyed reading about it. What kept me feverishly turning the pages until I finished it though was not the romantic relationships, but the ones between the sisters. After all love triangles (or in this case, polygons) are a dime a dozen in YA fiction, but it's rare to find such well-developed relationships between sisters. The tensions between them really drove the plot as much as the romantic tension did, which was refreshing. I also connected with Lara Jean in a lot of ways, for example her quite sensible fear of driving (which I have overcome by moving to the Bay Area and no longer owning a car, pro tip!) I can't wait for the next book!
Rocks in my socks:
nothing
Every book its reader:
I'd give this to anyone looking for a realistic school story with a touch of romance. Those looking for stories about sisters or stories with Asian-American leads will also be glad to find this novel. The romance never gets too heated. I'd say it's fine for 6th grade and up.
Extras:
Jenny Han has her own author page with more info on her books and FAQs:
http://www.dearjennyhan.com/
Source:
Book Passage
(I attended an event for the author and got her to sign my copy!)
To All the Boys I've Loved Before
by Jenny Han