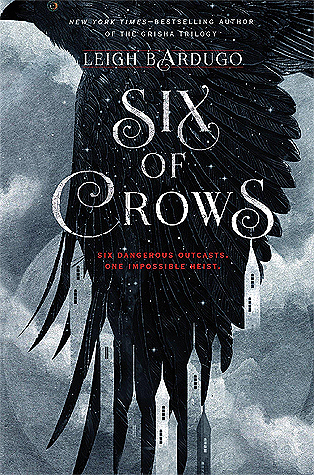 Book talk:
The Barrel is the part of town controlled by warring gangs. The part people avoid if they can afford to, unless they have illegal tastes and nefarious intentions. Kaz came to the barrel as a broken child, but now he practically rules it. His path to the top wasn't pretty and he's done a lot to earn his reputation as a monster. When a richly rewarding job is offered to him, he sees the possibility not just to become wealthy enough to leave the barrel behind, but to slake his long-nursed thirst for revenge. The job is impossible, of course, so if he has any chance of succeeding and surviving he'll need a crew that's the best of the worst: "A gambler, a convict, a wayward son, a lost Grisha, a Suli girl who had become a killer, a boy from the Barrel who had become something worse." "Six people, but a thousand ways this insane plan could go wrong."
Rave:
I loved everything about this book from the rag-tag crew of misfits to the daring heist plot to the setting in the familiar world of the Grisha. The characters were fully developed and diverse including different races, sexual orientations, and physical abilities. An author's note at the end explains that she has to use a cane on occasion much like the character of Kaz and I really appreciated her thoughtfulness in the approach to all her characters. Most of them have gone through trauma and while that clearly affects them and isn't downplayed they still get the chance to change and grow and prove that they're survivors. The shifting perspective really allowed me to get a sense of each character and their struggles and made them feel very real and dear to me. It also helped create suspense because each character's knowledge was incomplete so seeing who knew what allowed me to piece together the plot in a way that was fun. Highly recommended, especially for fans of the Grisha trilogy (although you don't have to read that to understand this book.)
Every book its reader:
I'd give this to fans of fantasy and heists. Think Ocean's Eleven crossed with Lord of the Rings. There's some pretty intense violence at times so I'd say 8th and up.
Topics and trends:
Heists, fantasy, diversity, multiple perspectives, disability, LGBTQ
Extras:
There's a strong fan community for this book, you can find its wiki here:
http://thegrishaverse.wikia.com/wiki/Six_of_Crows
There's a lot of great fan art too, like this drawing of all the characters by Kevin Wada
Quotes:
"When everyone knows you're a monster, you needn't waste time doing every monstrous thing."
"She wouldn't wish love on anyone. It was the guest you welcomed and then couldn't be rid of."
"the only law that applied to her was gravity, and some days she defied that, too."
"You wouldn't know a good time if it sidled up to you and stuck a lollipop in your mouth."
"There was no part of him that was not broken, that had not healed wrong, and there was no part of him that was not stronger for having been broken."
Source:
school library
Six of Crows
by Leigh Bardugo:
buy it
or
check it out
today!