This eco-thriller about genetically-engineered material that gets loose and infects a town is a fun read. I think it would be perfect for struggling readers because it's high interest, fast-paced, and short. It wasn't my cup of tea. It didn't spend enough time on the characters and the plot resolved too quickly for my tastes. It could have easily been a much longer novel without any filler and I found the glimpses of something more frustrating. There aren't enough good high-interest, low reading level books out there though so I appreciate it for what it is.
Fuzzy Mud by Louis Sachar: buy it or check it out today!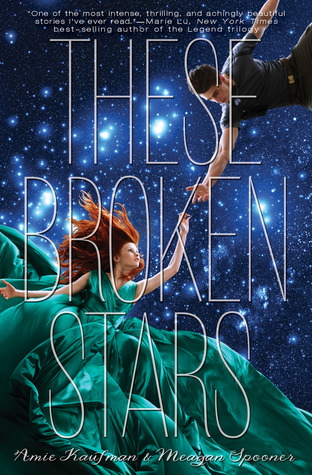 One of the benefits of being behind in my book reviews is that the distance gives me the chance to see which books really stayed with me. I remember enjoying this book, and I gave it four stars on Good Reads but I honestly could not remember a single thing about it. After reading other reviews, some things have come back, but not much. This is a good romance with a classic Pride & Prejudice plot. They misjudge each other & spend much of the story hating each other and trading barbs until they fall madly in love with each other. I don't remember there being anything specific that I disliked about the book. It's nothing ground-breaking or particularly memorable though.
These Broken Stars by Amy Kaufman and Meagan Spooner: buy it or check it out today!
I like the premise of this book, but I did not like the execution. All the characters were just so petty and mean-spirited. It makes me wonder why they were friends to begin with when they're so quick to throw each other away. In the end, I didn't like any of them and so I didn't really care what happened to them.
You and Me and Him by Kris Dinnison: buy it or check it out today!