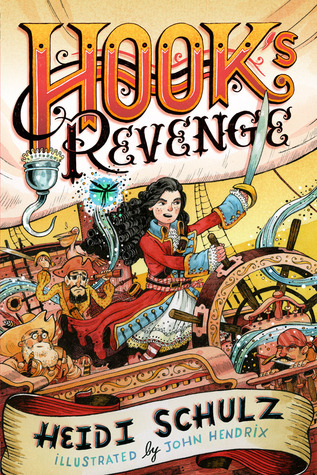 Book talk:
Jocelyn Hook knows that one day she will follow in the footsteps of her famous father Captain Hook: scourge of the seven seas! The only problem is that she's never actually met him, or set foot on a pirate ship for that matter. That, and her mother and grandfather who seem very determined to cinch her in corsets and stuff her with teacakes until she finally succumbs and turns into the meek lady of good breeding that they hope to marry off one day. But while suffering through the tortures of finishing school she finally hears from her father. The note promises danger, encounters with terrible beasts, and a wardrobe entirely free of corsets. Jocelyn doesn't have to think twice before accepting her father's request and jumping headlong into adventure!
Rave:
This is the feminist retelling of Peter Pan that I didn't know I was waiting for. Jocelyn is a firey, witty, young girl who is full of bravado but still suffers from impostor syndrome. She's layered and extremely relateable because really who hasn't bristled at their parents' expectations and dreamed of escaping on a pirate adventure? This book is full of adventure and heart and did I mention the humour? Plus there's the appeal of Peter Pan, Smee, and all those other familiar never-land faces. This was one of my favorite books of 2015.
Every book its reader:
I'd give this to students looking for humor and adventure in grades 4 and up.
Topics and Trends:
Stories retold, pirates
Extras:
Heidi Schulz has a
pirate-themed author page
you can explore.
Source:
school library
Hook's Revenge
by Heidi Shulz:
buy it
or
check it out
today!