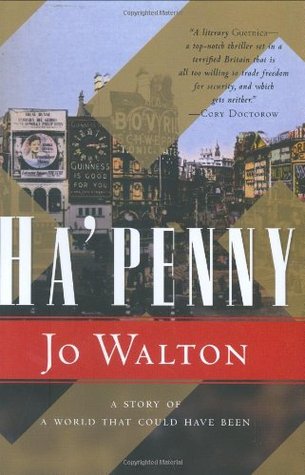 I loved everything about
Farthing
. It's well-written and takes so many different themes and genres and weaves them together into something incredible. The plot is a mystery that follows inspector Carmichael as he investigates a murder at party for the high society set in the English countryside. The setting is an alternate history where England has made an alliance with Hitler. The characters all have incredible depth and struggle with issues from antisemitism and homophobia to family pressures and political intrigue. The second book continues to develop the world and the consesquences of Carmichael's actions in the first book while centering on a different crime, one revolving around a theatre. I cannot recommend them highly enough.
Farthing and Ha'Penny
by Jo Walton:
buy them
or
check them out
today!
I read this as an audiobook. It was narrated by the author, who wasn't quite as dynamic a reader as I would have liked, but the content was so interesting I kept listening. It covers a range of subjects, not all of which I'd normally read about on their own, but in this context I found them fascinating. This quote from the book shows just how much happened that summer: "Babe Ruth hit sixty home runs. The Federal Reserve made the mistake that precipitated the stock market crash. Al Capone enjoyed his last summer of eminence. The Jazz Singer was filmed. Television was created. Radio came of age. Sacco and Vanzetti were executed. President Coolidge chose not to run. Work began on Mount Rushmore. The Mississippi flooded as it never had before. A madman in Michigan blew up a school and killed forty-four people in the worst slaughter of children in American history. Henry Ford stopped making the Model T and promised to stop insulting Jews. And a kid from Minnesota flew across an ocean and captivated the planet in a way it had never been captivated before." Recommended for anyone looking for a narrative nonfiction history book.
One Summer: America, 1927
by Bill Bryson:
buy it
or
check it out
today!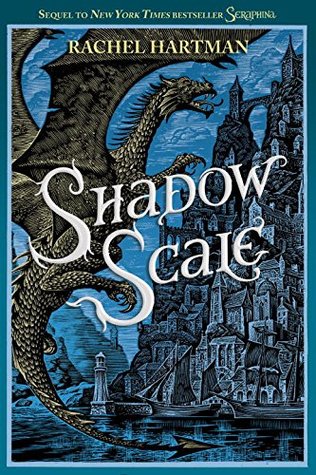 Perhaps my expectations were too high because I loved
Seraphina
so much, but I was not as big a fan of
Shadow Scale
. This book was on a much grander scale with different parts of the world explored and many new characters introduced. It was interesting to see more world building but it felt like a bit much at times, especially when what I really wanted was to see Seraphina and Lucian and the plot kept them apart for most of the novel. I missed the smaller, more personal scale of the first book. I feel like Hartman was trying to cover too much and please too many people. Still there was plenty to love about this novel and I enjoyed reading it. Hartman's writing is beautiful and she does an excellent job fleshing out the world and her new characters. I was definitely not a fan of the ending though, which felt too abrupt and was completely unsatisfying to me---which is too bad because it's the last book in the series.
Shadow Scale
by Rachel Hartman:
buy it
or
check it out
today!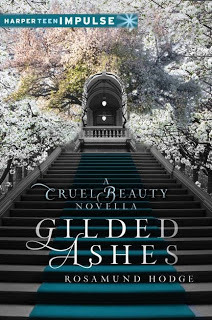 Another fun, fantasy re-telling of a classic fairy tale. If you enjoyed
Cruel Beauty
, you'll like this novella as well. I gulped it down in a morning. The setting is the same as her previous novel and the characters are pretty well-rounded. The step sisters avoid the over-the-top caricature they're given in many Cinderella stories and I like the dark twist on the fairy god mother. My favorite part was the relationship between Maia and the prince which is allowed to grow over time instead of magically happening over the course of a dance number. I wish it was longer and I'm looking forward to the next book in this world!
Gilded Ashes
by Rosamund Hodge:
buy it
or
check it out
today!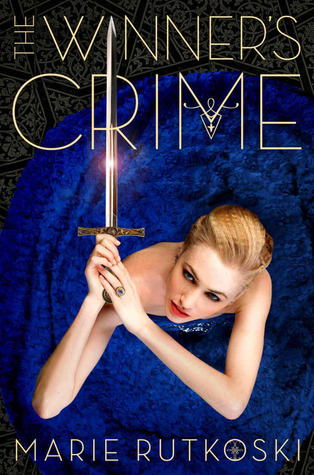 Something about this series just sucks me in, chews me up, then spits me out at the end. The political intrigue, the lush world building, and most of all the moral dilemmas and forbidden love that drive the plot. I like that there's often no clearly right choice and the characters are all completely cloaked in shades of grey. I'm definitely going to have to clear my day for reading when the next book comes out!
The Winner's Crime
by Marie Rutkoski:
buy it
or
check it out
today!
I really wanted to like this book, but sometimes I feel like I'm in a one-sided relationship with geek culture. I enjoy and respect it, but it often doesn't seem to value or respect me. For the record I have played both table top RPGs and MMORPGs (yes, despite my ovaries!) so I was excited to read this book, especially because it had a female DM. But then it gets everything about the female characters so wrong! Svetlana does not seem as fully fleshed and real as Lesh, and not just because his character puts her on a ridiculous pedestal. There's also a lot of aspects that are mentioned but never really explained or dealt with in a way that left a sour taste in my mouth. For example one character using 'homo' constantly or it never really being clear if Lesh wants to be Svetlana or date her. Most unexcusable to me is the fact that Svetlana is stalked and assaulted and somehow the author makes that about Lesh. I mean really who cares how Svetlana copes with having her privacy violated and her life endangered what's really important is how that affected the guy who likes her. Ugh!
Guy in Real Life
by Steve Brezenoff:
buy it
or
check it out
today!
This book is a great introduction to writing and appreciating poetry and it's all narrated in the witty style of Stephen Fry. His humor turned what could have been dry discussions of the mechanics of meter into a delightful conversation. The poetry exercises were great as well and I enjoyed reading Fry's examples and trying them myself. I don't plan on becoming a poet, but it did help me appreciate the poetry of others better and it was fun to try. I'd highly recommend this to fans of either poetry or Stephen Fry.
The Ode Less Travelled
by Stephen Fry:
buy it
or
check it out
today!
I greatly enjoyed my trip back into the world of
Whistling Season
in this companion novel set in Butte, Montana. Once again Doig does a wonderful job evoking a certain time and place and populating it with a varied cast of characters that alternately tickled my funny bone and pulled my heartstrings. This book was particularly enjoyable for me because I was reading a copy my great uncle had annotated with notes involving the book's similarity to my great-grandfather's time spent in Butte around the same time period. Even without the personal connection I would have enjoyed this thoughtful and witty work of historical fiction.
Work Song
by Ivan Doig:
buy it
or
check it out
today!