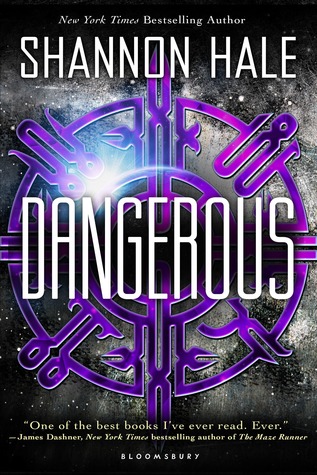 Book talk:
When Maisie's father gave her the middle name 'Danger' he thought he was being funny. He didn't know how apt it would turn out to be. Maisie has wanted to go to astronaut camp ever since she was a little girl, so when she sees the contest on her cereal box she figures that it couldn't hurt to apply. She is shocked to win and even more so when she's selected to be part of an elite group that gets to visit the space elevator built by the eccentric genius who runs the camp. But what starts as a prize loses its luster when things go horribly wrong. All of their lives will be changed forever as they come to grips with new abilities and try to decide who, if anyone, they can trust.
Rave:
Aliens, superheroes, cool gadgets, and epic fight scenes: this book has it all. This book breaks the mold in many ways. The characters excel in science but spout off memorized lines of poetry. They are multilingual and diverse and resist easy categorization into good and evil. Maisie actually has a good relationship with her parents and they are willing to drop everything to help her (plus the Dad has a fondness of puns that won me over.) There is a strong romantic element and a bit of a love triangle but the triangle is quickly dealt with instead of drawn out. Cheesy pick up lines are properly rebuffed (" Do girls usually respond to that kind of talk?"/"You'd be easier to woo if you were dumb.") in favor of emotional engagement and banter involving references to Greek mythology, poetry, and science. Now that's a trend I can get behind! ("You be Europa, and I'll be your Jupiter" is my favorite pick up since
Eleanor & Park's
Bobba Fett analogy) Even the supporting characters show surprising sides like the muscle-bound head of security singing Opera in a faux soprano when he's alone.
Rant:
A few characters are still disappointingly two dimensional like the stereotypical greedy villain willing to go to any length for a profit. There are some issues brought up that I wish Hale had spent more time with like the abuse in the back story of one of the supporting characters. There were moments where characters die or other horrific things happen that I felt should have had more of an impact and emotional weight than they did because we didn't get to know the characters well enough or the context was sped through. These were probably sacrifices made to keep the plot moving quickly which plenty will appreciate but given the choice I'd have preferred a more thoughtful examination of these elements even if it meant a slower pace.
Every book its reader:
I'd give this to fans of science fiction and super heroes looking for a fast-paced thriller.
Extras:
Shannon Hale
has her own website
with more information on the book including a great post on
neutral characters and relating to the specific
and another on the
book's history
.
The publisher made a teaser trailer for the book with an endorsement from James Dashner that impressed several of my students:
Bonus Quotes:
"The afternoon was yellowing around the edges like old paper."
"I am looped in the loops of her hair."
"Cheddar is as gouda cheese as you can hope to try. But it's nacho cheese, so leave my provolone."
"Poetry reminds me of looking at things through a microscope...I examined things I thought I knew--a strand of my hair, a feather, an onion peel. Seeing them up close, they changed."
Source:
ebook from public library
Dangerous
by Shannon Hale:
buy it
or
check it ou
t today!