This book has everything going for it that
Mirka's first adventure
does: a great female protagonist, seamlessly integrated facts about Jewish culture, epic knitting scenes, and a heaping dose of humour. In this adventure Mirka narrowly saves her town from being destroyed, then ends up having to deal with a doppelganger who is better than her at everything and keeps stealing her food to boot. I love Mirka for her flaws more than her strengths, and it's nice to see her make this same realization about herself. Mirka is a great protagonist because she is so relatable, and I think plenty of kids (and adults for that matter) will be able to identify with Mirka as she doubts herself and the way her passion for sword fighting far surpasses her skill at it. Everyone can certainly enjoy the humour peppered throughout (my favorite was when the troll reveals his collection of magical objects including a mustache of doom, white out of despair, and hair tie of unexplained plot significance.) This is a comic for anyone who has ever dreamt of fighting enemies with swords and got grounded for trying to do so.
Hereville: How Mirka Met a Meteorite
by Barry Deutsch:
buy it
or
check it out
today!
My sister bought me this for my birthday and it cracked me up. Flipping through its pages was like having a conversation about my favorite movies with an interesting stranger at a party. Plus it has a foreword by NPH. The book is a series of paintings that depicts great showdowns in film history. Despite the theme involving fights everyone depicted is incongruously cheery and adorable, which is where a lot of the humour comes from. He even manages to make
A Clockwork Orange
look cute! A lot of the paintings also made me laugh out loud when I saw who Scott pitted against each other: Spinal Tap vs. tiny Stone Henge, the Titanic vs. the iceberg, Willy Wonka vs. all the children. There were some that I didn't recognize, but that's just something for me to look forward to. As I watch more movies and look back at this book, I'll recognize more and more. It's the gift that keeps on giving.
The Great Showdowns
by Scott C:
buy it
or
check it out
today!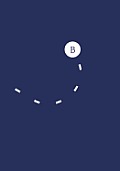 This is the text of the poem that Sarah Kay presented in her
fabulous TED talk
. This version is sparsely illustrated and would make a wonderful gift, or something nice to keep on your shelf for when you need a little inspiration yourself. From her declaration that she is "going to paint the solar systems on the back of her [daughter's] hands, so she has to learn the entire universe before she can say, 'Oh, I know that like the back of my hand.'" to he reassurance that "rain will wash away everything, if you let it." This is a poem for mothers and daughters to read and enjoy together.
B
by Sarah Kay:
buy it
or
check it out
today!
I really enjoyed this installment of The Best American Science and Nature Writing, even though it took me a year to get through. It's interesting, but not exactly a page-turner. Still, I enjoy reading this series to get a glimpse of what's going on in the world of science news and I found myself referencing things I learned in these articles throughout the year. Like any collection of articles or stories there were ones I enjoyed more than others and some I enjoyed at first but went on for longer than my interest. Overall it was a great collection though and I'll probably be starting the next one soon.
The Best American Science and Nature Writing 2011
edited by Mary Roach:
buy it
or
check it out
today!